Error 404 is common, and I am sure you have encountered it while browsing. This error means that the web page you are trying to find cannot be found on the web server.
The error indicates that the web server is reachable, but the specific page you might be browsing is not. It may also indicate a flaw in the hosting service or a domain name system (DNS) configuration error.
Error 404 leaves a negative impression on your website visitors. It can also negatively impact your SEO and website ranking. This dead-end page error hinders search engines from crawling the website properly.
Fortunately, web owners are in a position to fix error 404 because it mainly occurs on the client side. This article will help you understand how error 404 errors occur and show you how to resolve them effectively.
What does 404 error mean?
A 404 error means that the page you were looking for, could not be found on the server. This type of error message usually appears when the page you are trying to access no longer exists on the server. It also may appear if you type an incorrect URL in your browser, or if the page you were looking for has been moved or deleted from the server.
and how does 404 error affect websites?
When customers encounter a 404 error, they get discouraged and are unlikely to continue browsing the website. This can result in decreased website traffic, reduced website performance, and lower SEO rankings. It can also lead to a loss of revenue from the website.
Does 404 error mean I was blocked?
No ,404 error does not mean you were blocked. It means that the page you requested could not be found. It could be because the page was moved or deleted or the URL you entered is incorrect.
Should you delete 404 pages?
No, there's no need to delete 404 pages as they will not damage your website. However, it's important to redirect these pages to relevant pages, so you don't lose valuable traffic.
Additionally, monitoring your website regularly for broken links and other errors can help minimize the occurrence of 404 errors.
It is important to remove 404 errors because they can negatively affect your website's user experience, search engine ranking, and credibility. They can also lead to visitors abandoning your website.
Therefore, you should take preventative steps to fix 404 errors to improve your website's performance and user experience.
Here is how you can monitor 404 error not found;

• Use monitoring tools: Use monitoring tools such as Google Analytics and Search Console to identify 404 errors that have been identified by search engines.
• Use broken link checkers: You can use third-party broken link checkers to identify and fix broken links on your website.
• Check website performance regularly: You should regularly check your website performance to identify any issues that can lead to errors.
• Monitor incoming traffic: Monitor your incoming traffic and identify any pages or URLs that have high numbers of 404 errors.
• Monitor website changes: Make sure that all of your website changes, such as page moves or URL changes, are tracked and any errors are identified and fixed quickly.
By following the mentioned steps, you can effectively monitor, fix and prevent 404 errors on your website. Taking these steps can significantly improve website performance, reduce user frustration and improve SEO rankings.
What causes 404 errors?
A 404 error appears because the web page you are trying to reach cannot be found anywhere on the internet. Here are some of the top reasons you see a 404 error after searching the search engine and ways you can fix it.
Completely moving a Page
In case you recently moved or added a new page, there are chances that the page might have been placed in the wrong folder.
Checking the pathway to the web page you want to access and comparing it against what exists on the File Transfer Protocol (FTP) or content management system(CMS) is the best way to solve the error.
Move the page to the correct location if it was in the wrong location, and try to reaccess the link in your browser.
If doing this does not help resolve the error, reach out to your website host to help you fix the error.
Moving the Directory of a page
Sometimes, the page itself might not cause the 404 error. For example, it could be because you moved the folder that has your page. When you move this folder, the URL of every page will also change.
You will need to access the pages in the folder using their new URL. Therefore, the names of your folders in your URL should match what is in your FTP or CMS. To fix this, you only need to retype the URL in your browser.
Moving the entire site
If you rehosted your website, an error might show up as your website readjusts its new destination.
99% of website hosting companies do everything to minimize downtime during migration, but it happens every once in a while.
In such a case, there are options to solve this error.
First, you need to wait for the downtime to resolve, which should take just a few minutes after moving.
Second, contact your new website hosting company. They should give you an estimate of the time your website should take to become operational.
Forgetting 301 Redirects
If you recently moved your web pages or your whole website, there is a possibility you didn't put your 301 redirects in place.
Fortunately, there is an easy fix.
In summary, 301 redirects tell the person browsing that the page they are trying to find has been moved to a new URL permanently.
It also communicates with Google so that you don't lose your ranking for valuable search terms but give you time to customize your website to what you want.
The other redirect you can use is the 302, also known as a temporary redirect. However, it doesn't transfer SEO value, so 301 is better to use.
If you want to use an old URL to drive your website visitors to the same page, you need to use a 301 to avoid a 404 error.
Mistyping a URL
Often, checking if you have misspelled the URL is the simplest solution. However, before reaching out for help, check your URL's spelling.
Typos are some of the common mistakes that could make you think that your website has a problem.
How do I fix error 404?
Use Google Search Console to identify broken links. You can also use tools like Screaming Frog to scan your website and detect the 404 errors on your website.
Here are ways you can fix error 404;
• Check for typos and incorrect URLs: The first step is to check the URL for any typos or incorrect entries. It is very easy to unintentionally make a typo in a URL when typing it manually in a browser.
• Redirect old pages: If you have recently moved or renamed some of your web pages, you need to redirect the old page to the right URL. You can easily do it using 301 redirects.
• Update your internal links: Make sure that all of your internal links point to the right URLs
• Check your sitemap: Make sure that the URLs listed in your website's sitemap are up to date and functioning properly.
• Monitor your website regularly: Regularly checking your website and monitoring it for errors or broken links helps to ensure that all of your pages are working properly and are up to date.
The bottom line
Error 404 can negatively affect your website's user experience as well as your search engine ranking. Therefore, it is important to take preventative steps to minimize the occurrence of error
How to Detect and Track HTTP 404 Errors
To improve your website's user experience, you must find and fix all 404 errors. Getting rid of HTTP 404 errors not found will have a positive impact on your ranking.
Impact of getting rid of 404 errors
• Increased usability and user experience. A website with broken links often sends a signal to users that the website is not maintained, resulting in a poor reputation.
• Improved organic rankings. When a website has many HTTP 404 errors, search engines view this as a sign of low-quality content and will not rank the website as well compared to sites with fewer errors.
• Decrease in bounce rate. Having a high number of 404 errors can result in a high bounce rate, as users abandon the website because of difficulty navigating or poor
• Improved User Experience: HTTP 404 errors can frustrate website visitors. Having 404 errors can interrupt the user flow and make them question the trustworthiness of your website.
• Improved SEO Rankings: 404 errors can also impact your search engine rankings. Search engine crawlers index content on a website, and if there are 404 errors, it becomes difficult for the crawler to find the content. This can affect the website's ranking.
• Increase Website Traffic: Fixing 404 errors can help increase website traffic a
Here are some tools you can use to detect the error
Google Search Console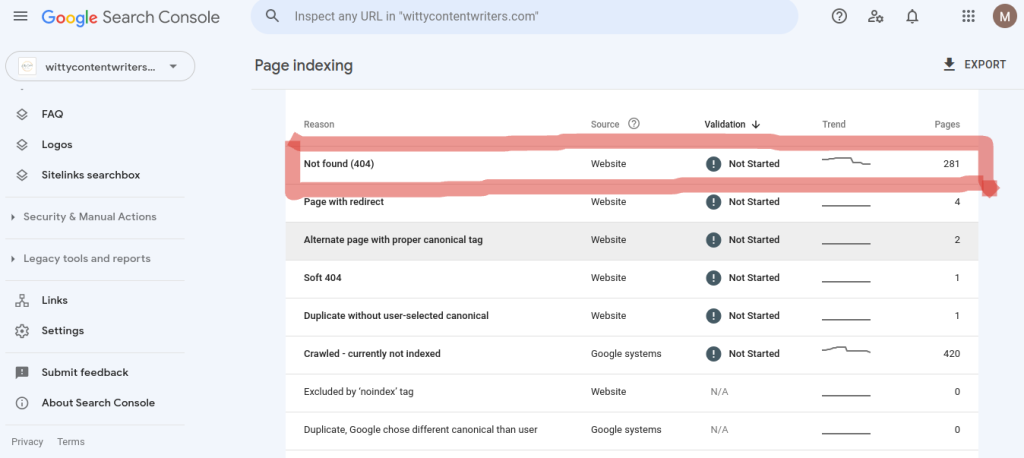 Google search console is a free and easy-to-use tool to help you detect 404 errors on your website. To discover the 404 errors in your website with Google Search Console, you need to;
Log into your Google search console account.
Click on crawl errors and go to diagnostics
Click on not found, and here you will see all pages that return a 404 error.
Screaming Frog
Screaming frog is a great tool to give you insights about what is going on on your website. You only need to download the tool on your computer and insert the URL of the website you want to detect issues.
Screaming frog will then crawl all URLs of your website and summarise all the pages you have on the website and the HTTP code each has.
Next, export the data into an excel or CSV file and work on pages with a 404 error code.
Bing Webmaster
You can identify all pages that return a 404 error. First, you must go to Bing Webmaster Tools under reports and data and then click on crawl information. Here, you will see all page that has a 404 error code.
Wrap-up
Avoiding 404 errors is inevitable. To avoid SEO issues and low user engagement, you must monitor your site's performance proactively. Checking and resolving 404 errors is equally as important as writing and publishing quality content.
If you have a small website, you can do a site audit at least once a month and every week if you have a big website. Dedicating time to solving technical issues will help you stay ahead of your competition and improve user engagement.