Error 404 is common, and I am sure you have encountered it while browsing. This error means that the web page you are trying to find cannot be found on the web server.

The error indicates that the web server is reachable, but the specific page you might be browsing is not. It may also indicate a flaw in the hosting service or a domain name system (DNS) configuration error.

Error 404 leaves a negative impression on your website visitors. It can also negatively impact your SEO and website ranking. This dead-end page error hinders search engines from crawling the website properly.

Fortunately, web owners are in a position to fix error 404 because it mainly occurs on the client side. This article will help you understand how error 404 errors occur and show you how to resolve them effectively.

Why Error 404 Error Occurs and Ways to Fix it
A 404 error appears because the web page you are trying to reach cannot be found anywhere on the internet. Here are some of the top reasons you see a 404 error after searching the search engine and ways you can fix it.
Completely moving a Page
In case you recently moved or added a new page, there are chances that the page might have been placed in the wrong folder.
Checking the pathway to the web page you want to access and comparing it against what exists on the File Transfer Protocol (FTP) or content management system(CMS) is the best way to solve the error.
Move the page to the correct location if it was in the wrong location, and try to reaccess the link in your browser.
If doing this does not help resolve the error, reach out to your website host to help you fix the error.
Moving the Directory of a page
Sometimes, the page itself might not cause the 404 error. For example, it could be because you moved the folder that has your page. When you move this folder, the URL of every page will also change.
You will need to access the pages in the folder using their new URL. Therefore, the names of your folders in your URL should match what is in your FTP or CMS. To fix this, you only need to retype the URL in your browser.
Moving the entire site
If you rehosted your website, an error might show up as your website readjusts its new destination.
99% of website hosting companies do everything to minimize downtime during migration, but it happens every once in a while.
In such a case, there are options to solve this error.
First, you need to wait for the downtime to resolve, which should take just a few minutes after moving.
Second, contact your new website hosting company. They should give you an estimate of the time your website should take to become operational.
Forgetting 301 Redirects
If you recently moved your web pages or your whole website, there is a possibility you didn't put your 301 redirects in place.
Fortunately, there is an easy fix.
In summary, 301 redirects tell the person browsing that the page they are trying to find has been moved to a new URL permanently.
It also communicates with Google so that you don't lose your ranking for valuable search terms but give you time to customize your website to what you want.
The other redirect you can use is the 302, also known as a temporary redirect. However, it doesn't transfer SEO value, so 301 is better to use.
If you want to use an old URL to drive your website visitors to the same page, you need to use a 301 to avoid a 404 error.
Mistyping a URL
Often, checking if you have misspelled the URL is the simplest solution. However, before reaching out for help, check your URL's spelling.
Typos are some of the common mistakes that could make you think that your website has a problem.
How Error 404 Looks Looks Like On Your Screen
Here are common ways in which HTTP error 404 is displayed;
404 Error
HTTP 404
404 not found
Error 404
The requested URL was not found on the server
Error 404 not found
HTTP 404 not found
The above error messages are displayed in any browser and in the browser window as web pages do. However, the error messages may look slightly different depending on your browser.
Below are images showing how the error messages look on different browsers.
Mozilla Firefox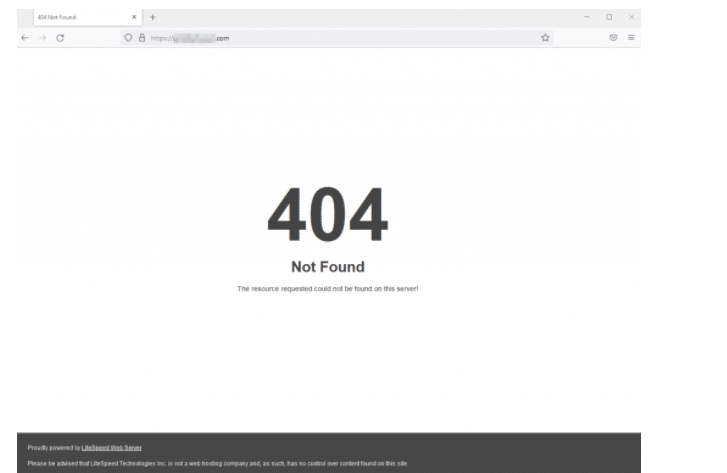 Mozilla displays a straightforward 404 not found with a detailed description below the error saying, 'The resource requested could not be found on the server.'
Google Chrome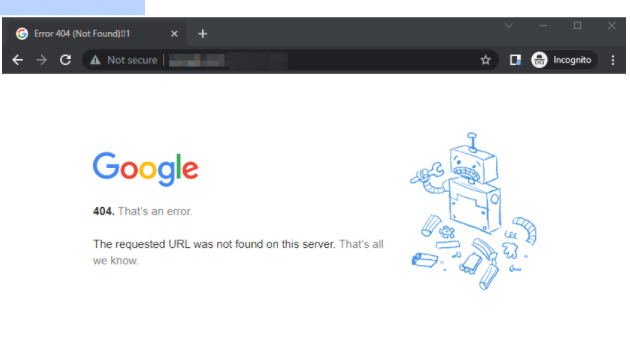 When using Google Chrome, you will see a descriptive message under the HTTP status code explaining that the page couldn't be found on the server.
Opera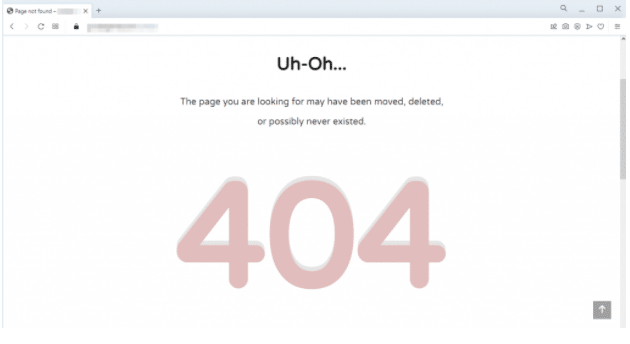 When using the Opera browser, it displays a detailed description on the top-upper part of the page.
Microsoft Edge
Microsoft Edge shows the HTTP error 400 messages followed by a description "The requested URL is invalid."
Browsers display the 404 error message differently with a simple description to help them understand that the page cannot open.
How to Detect and Track HTTP 404 Errors
To improve your website's user experience, you must find and fix all 404 errors.
Getting rid of HTTP 404 errors on your web pages will have a positive impact on your ranking.
Here are some tools you can use to detect the error:
Google Search Console
Google search console is a free and easy-to-use tool to help you detect 404 errors on your website. To discover the 404 errors in your website with Google Search Console, you need to;
Log into your Google search console account.
Click on crawl errors and go to diagnostics
Click on not found, and here you will see all pages that return a 404 error.
Screaming Frog
Screaming frog is a great tool to give you insights about what is going on on your website. You only need to download the tool on your computer and insert the URL of the website you want to detect issues.
Screaming frog will then crawl all URLs of your website and summarise all the pages you have on the website and the HTTP code each has.
Next, export the data into an excel or CSV file and work on pages with a 404 error code.
Bing Webmaster
You can identify all pages that return a 404 error. First, you must go to Bing Webmaster Tools under reports and data and then click on crawl information. Here, you will see all page that has a 404 error code.
Wrap-up
Avoiding 404 errors is inevitable. To avoid SEO issues and lowering your user engagement, you must monitor your site's performance proactively. Checking and resolving 404 errors is as equally important as writing and publishing quality content.
If you have a small website, you can do a site audit at least once a month and every week if you have a big website. Dedicating time to solving technical issues will help you stay ahead of your competition and improve user engagement.